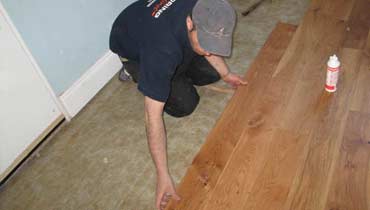 Wood, as a flooring material, is a definite classic and it is probably the best choice for every setting, and style. This is mainly due to the great variety of wood types. Wooden flooring presents a variety of options when it comes to materials, flooring compositions and patterns, colours, structures, and styles. Although wood flooring is a broad concept, it contains and incorporates different techniques, methodologies, materials and styles, which makes it a great choice, suitable for anyone and everyone. We can easily claim the benefits of wood as a flooring material provides us with is more than any of the other flooring options available.
The main groups wood flooring is grouped in, depending on the materials, are hardwood, engineered wood, and parquet. Of course, there are some additional options - be it classic and well known, such as floorboards or laminate. The latter, however, isn't a wooden product, but we often talk about laminate when considering wood flooring for our projects. Overall, the right flooring can bring a lot of positive features to every room, no matter its purpose or location. Amongst the benefits indisputably are the good looks, the classic, elegant appearance, matching any style, and the unpretentious nature. Good thing is that it requires really low-maintenance, while simultaneously providing great hygienic benefits, flexible installation, durability, and longevity. What's more, the good things apply to every wood species, regardless if it's cut in a whole timber as for solid wood, or constructed in layers or blocks for engineered wood and parquet.
However, as it is for every project, the future of the wood flooring depends a lot on its fitting and whether or not it's done properly. Here is where we come in as your helping hand in London. Our main mission is to help all domestic and commercial clients in the area to experience professional wood floor fitting, find the perfect materials, and match the installation for the requirements of each project individually, thus ensure we will provide flawless results with the help of our talented team of experts and the quality equipment and products we trust in.
Since wood flooring is a great investment, which will pay off with decades of trusty service, make sure to show yours the love it deserves. The answer to how you can achieve that feat is pretty simple – just pamper it from time to time, by hiring sanding and refinishing specialists. Think of wood floor sanding as a facelift of sorts, smoothing and evening out the surface of your floor and allowing it to shine again. It is not recommended to undergo the procedure too often, so in between the more aggressive services, be sure to opt for recoating and professional maintenance every year to maintain the freshness of your floor and prevent any issues from arising.
Finally, besides the cosmetic procedures you can gift to your wooden floor, make sure to provide for it when it needs it, which pretty much means to tend to any loose and squeaky parts and planks, worn and dull patches, unfixed spots and discolouration, thinning or deep dents and gaps. Remember, as soon as you call for help your flooring experts, as easier and secure it will be to fix your installation. Don't lose a minute more and contact us if you are a fan of wood flooring and want to own one, or simply if you need help and restoration. We are experienced, skilled and dedicated and ready to help you in London area!